Big White Condos – Your Guide to Buying a condo in Big White
Searching for a Condo in Big White can be pretty overwhelming even for the savviest of Buyers, with over a dozen buildings to choose from. We've created this guide to help you learn about all the different complexes and units available in Big White Kelowna.
As you will learn, there are a lot of complex things to consider when choosing a condominium. Of course, the price, finishings and size play a factor. But when purchasing a secondary property used as a vacation home, you'll soon realize there are much more important questions to ask yourself. Some important things to consider when purchasing a resort property on Big White Ski Resort may include,
Where do you want to be located on the mountain? Do you want to be on the upper side a bit further away from the village center but closer to accessing the central area of the ski hill?
Are building amenities a must-have, would you like access to a heated pool, a community hot tub, gym or a recreational centre.
Is a private hot tub a must-have or want to have. Some complexes do not allow hot tubs, either for insurance reasons or weight load reasons. So it's imperative to add this to your list and discuss this with your Big White real estate agent before looking.
Rentals, would you prefer if the building allowed them or didn't. It's very important to understand the differences in strata rules and local Big White zoning bylaws that affect the use and enjoyment of any condo you may consider purchasing.
As a local community expert, I'll personally go through a must-have, want to have and doesn't matter list with you to determine those things most important to you before your search begins. Ensuring you save valuable time and effort to make your condo search as easy as possible. You can read more about joining our Okanagan Home Finder, where we do the searching for you!
Here is an overview of  Big White real estate prices over the past five years from 2016 to 2021. These statistics were provided by the Interior REALTORS association Okanagan Mainline Real Estate Board.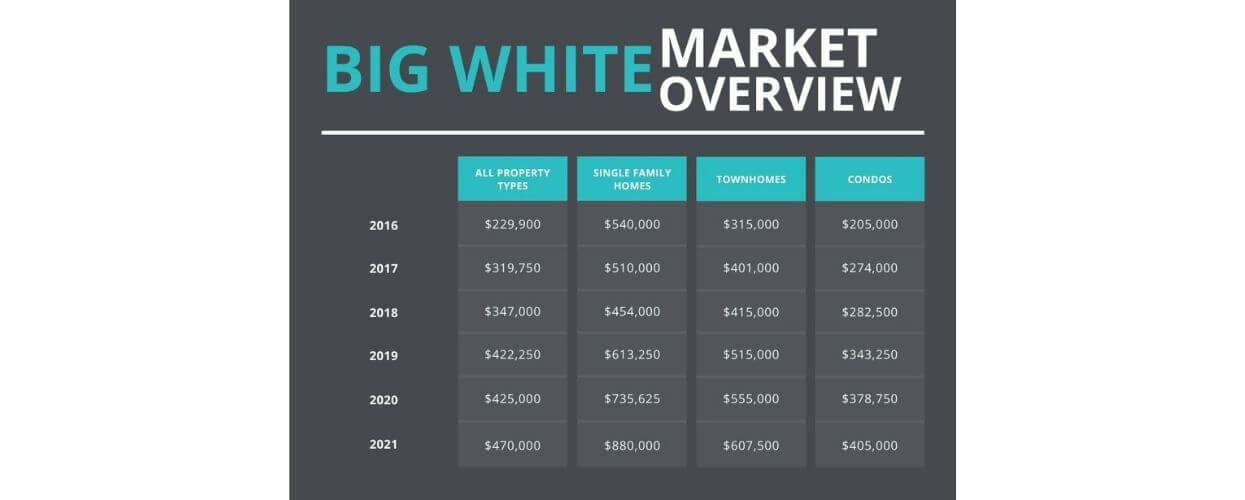 Guide to Big White Condos
The Aspens
Located at the top of Big White, you'll find the Aspens complex at 7700 Porcupine Rd. The 96 units were constructed in 2006 and feature floor plans ranging from 1400 – 2600 square feet with two, three and four-bedroom options.
Ponderosa Inn
The Ponderosa Inn is located in the Village Centre at 60 Wolverine Rd and was constructed in 1979, consisting of 53 units that consist of studios, one, two and three bedrooms, all with authentic wood-burning fireplaces to enjoy after a cold day on the slopes. Building amenities include a hot tub, sauna, lounge, including a games room and ping pong table.
Whitefoot Lodge
Live in the heart of the Village at Whitefoot Lodge located at 5375 Big White Rd. A total of 171 units that were built in 1980 await you. Here you'll find a studio, one and two-bedroom units that range in size from 241 square feet – 1035 square feet, while the average size is 407 square feet.
Inn at Big White
Look no further; the Inn at Big White at 5340 Big White Rd offers a great affordable opportunity to enjoy all the amenities Big White Ski Resort has to offer on a limited budget. The 100 units here were constructed in 1998 and offered two options, including a one-bedroom and a studio. The Inn at Big White offers one of the best locations on the mountain in the middle of the Village. Access to restaurants, pubs, groceries is located right outside the building.
Snow Ghost Inn
One of the most affordable options on Big White is the Snow Ghost complex featuring 52 micro-units ranging in size from 345 – 1265 square feet. The building amenities include a hot tub, indoor pool, games room and racquetball court. Enjoy one of the best ski in- ski-out locations on the mountain, located at 20 Kettle View Road.
The Moguls
The Moguls complex was built in 1982, and the 99 units offer either bachelor suites, one or two-bedroom options. The top floor units are exceptional and feature a lofted second-story space with vaulted ceilings and exposed log beam ceilings. Choose from one of three lifts located just outside the front entrance to access the ski hill.
Snowbird Lodge
Built in 2005, the Snowbird Lodge is a quaint complex with 18 units on four stories that offers a true ski in ski out experience—located in Happy Valley at 5050 Snowbird Way. These gorgeous two-bedroom, two-bathroom units feature high-end finishings, including slate tile entryways, hardwood floors, magnificent maple kitchens, granite countertops, and stainless steel appliances.
Copper Kettle Lodge
They were constructed in 2004 located at 250 Feathertop way right on the hillside next to the Black Forest chair and Happy Valley. A true ski-in/out experience awaits you. Gorgeous authentic ski cabin finishings await you from pine ceilings, a cozy gas fireplace and oversized windows that frame in the view of the surrounding snow-covered mountains. There are 49 units, the majority of which are two and three bedrooms, while a few rare end units offer a four-bedroom floor plan.
Chateau on the Ridge
Suppose you are searching for a cozy condo in the heart of the Village. Chateau On The Ridge is just what you're looking for, an affordable condo in a fabulous location. The 37 unit complex was built in 1995 and is located at 225 Kettle View Rd inside the Big White Village.
Chateau Big White
If you are looking to be close to the Village Center, Chateau Big White is the place for you. Located conveniently next to the Plaza chairlift and in the heart of the Village, this 57 unit building offers a variety of smaller units, all under 1000 square feet, with the smallest being 393 square feet in size. The Chateau was built in 1998, complete with a hot tub, a delicious restaurant and a full-time concierge for the winter ski season.
Stonebridge Lodge
Stonebridge Lodge offers one of the most premium addresses on the mountain, located at 5257 and 5259 Big White Rd in the middle of the Village. The 95 units here were built in 2005. Building amenities include underground parking, an exercise room, a swimming pool, and a few restaurants.
The Raven
The Raven is located in Happy Valley at 5030 Snowbird Way and is just a two-minute walk to the gondola. The 36 units were constructed in 2006 and feature floor plans ranging from a single bedroom up to four bedrooms. Amenities included a heated indoor swimming pool, gym, games room and heated underground parking.
Stonegate
The Stonegate complex runs along the road directly across the street from the Village and is located at 375 Raven Ridge Rd. Built in 2008, this master-planned 48 unit condominium complex offers one of Big White's most premium resort properties. Building amenities include an outdoor pool, jacuzzi, theatre room and a games room.
Sundance
Just off the Bullet chair and located inside the West Lodge at 255 Feathertop Way is Sundance. You'll find 64 units ranging in size from 649 – 1265 sq ft with an average of 975 sq ft. Enjoy excellent building amenities that include an outdoor pool with water slide, community BBQ area, hot tubs, a game room with a pool table, fitness center, theatre room and kids play area.
The Timbers
Constructed in 2005, these high-end condos were built with luxury in mind and created a visual focus around the Monashee Mountains and valley below. One of the most sought-after addresses in Happy Valley is within minutes to the skating rink, tubing and ice wall, located at 5085 Snowbird Way. In-unit features include in-floor radiant heating, steam showers in master ensuites, hardwood floors, gas fireplaces, open concept kitchens with large pantries and gorgeous granite counters. The average condo here is a two-bedroom, two-bathroom unit and is 1351 square feet in size.
The Legacy
Built in 1993, the legacy development offers phenomenal access to Hummingbird ski run from your front door. One minute stroll away is where you can access the Ridge Rocket, Snow ghost & Plaza chairs. Large covered common BBQ area, underground parking and additional parking outside are just some of the extras you will enjoy with this fantastic property. You will find one, two, and three-bedroom floor plans to choose from at 215 Kettleview Road.
Plaza on the Ridge
Located a few short steps away from the Village at 40 Kettle View Road, it makes this a phenomenal location for those looking for a family getaway or a great rental. The 50 units here were built in 1993 and offer one, two, three and four-bedroom floor plans. Some units feature private hot tubs and great views of the Monashee Mountains.
Glacier Lodge
Glacier Lodge is a quaint condominium complex built in 2003 and is located at 315 Whitehorse Lane. The most popular condo you'll find here is a two-bedroom two-bathroom unit with spectacular views of the Monashee Mountains and Christian Valley.
Where you'll find Big White Condos for sale
This helpful map is here to show you exactly where you'll find each of the different condo complexes located in Big White.
Benefits of owning a condo in Big White
In Big White, condos will continue to be the most popular option of homeownership on the mountain for a few reasons, one being feasibility and the second a low maintenance option not requiring them to do any form of maintenance or landscaping. A condominium is a wise purchase if you're planning on being an investor or an owner who plans to only use the property a few times throughout the calendar year.
Strata fees, what's the deal
The strata fees for a resort-style property are no different than a normal condo. However, you'll find they are a bit on the high side. Keep in mind that most of the condos in Big White are so desirable that the great rental revenue covers a large portion of the strata fee. In some cases, it pays for over 100%. The strata can include access to amenities such as a pool and hot tubs, depending on the complex. Strata fees can include your water, sewer, garbage, recycling, landscaping, snow removal, management (of the strata) and your contingency reserve. When setting your monthly budget, it's essential to find out what each condo you're considering includes and what it does not include.
Click the link below to find Big White Condos For Sale and learn even more about this wonderful Kelowna neighbourhood