Buying a home with Brandon

Buying a home
After our initial call, based on all the newfound information, I'll recommend a few local neighbourhoods that would be the most suitable areas for your unique needs and desired Okanagan lifestyle.
Whether you are relocating here or not, we will still plan on scheduling a suitable time to go out and tour some specific neighbourhoods and areas that you're most interested in. The tour is an excellent time for me to learn more about some of the most important things you're looking for in your ideal Okanagan neighbourhood.
After you have filled out our VIP Okanagan Home Finder form I'll personally review the details and begin selecting the most suitable options and schedule showings for us to view the homes right away.
After our search efforts have paid off and we have finally found the one, I'll carefully prepare and review the offer and all the necessary documents with you. I'll advise you on price, terms, and conditions and explain what happens next. Then I'll negotiate until we have an accepted offer with the price, terms, and conditions you are pleased with.
Now that we have an accepted offer (congratulations btw)
We can begin getting necessary documents to the mortgage broker, scheduling a home inspection, getting in touch with a lawyer for any real estate-related advice regarding the transaction, carefully reviewing and approving the necessary City files, title, and disclosures. Once you are satisfied with everything and have the mortgage approved and, if required, appraisal, we will remove subjects and hand in our deposit.
After the deposit has been handed in, the sale is now firm. Now the most challenging part is waiting until completion and possession day, when you'll get to move into your new Okanagan home.
Helping you Find A Home You Love
If you are on this page, chances are you are thinking about buying a home. Why do it all alone? Take a few short moments and describe your Okanagan DREAM home by answering a few quick questions, and I'll get to work right away finding you the home of your dreams.
Okanagan
Home Buyers Guide
If your Buying a home in the Okanagan, then this guide is what you need. Whether this is your first home or tenth home, you are sure to learn a few new things when it comes to buying a home.
In this guide, we cover...
What exactly is the deal with home buying anyway
The benefits of owning a home
How much money you'll need for a new home
How to get pre-approved for a mortgage
Getting to know your home buying team
What's on your wish list
Helpful tips for house hunting in the Okanagan
Different types of homeownership
Ten questions to ask your home buying team
Seven tips on making a solid offer, so the seller says yes
Six typical first time home buyer mistakes to avoid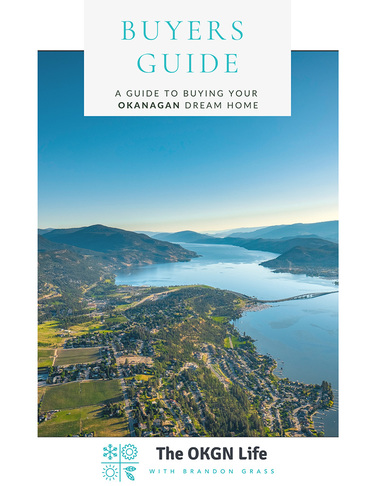 A guide to buying your Okanagan Dream Home
BUYERS GUIDE
Buying a home in the Okanagan? Start here!
If you want to take the next step in your home buying journey, reach out and schedule your no-obligation home buyer consultation with Brandon today! There is absolutely no pressure ever.

Over the past five years my extensive network of industry professionals has grown and consists of a careful hand selected list of people I trust the most to help get my clients from "I'd like to buy this house, to that was the best home buying experience of my life"
Meet Your Powerful Home Buying Team

Mortgage Brokers
A recent study by the National Association of Realtors stated that 65% of buyers would require financing when purchasing their next home. Which is one of the reasons why we have a team of mortgage brokers to support you in your journey of becoming independently wealthy through real estate ownership.
Not only will our mortgage brokers supply you with a pre-approval, but they'll also provide you with several options that will best fit you and your plans and allow you the options should life change and throw you a few unaccepted curve balls.

Inspectors
The home inspectors on our team will advise you on the good, the bad, and anything that can impact your new home purchase.
Not only is a home inspector an essential part of your home buying team, but when things are discovered and problems need to be taken care of, knowing who to call on when potential issues are found is essential for a smooth transaction. These include secondary inspections that specialize in pests and rodents, pine beetles, asbestos, electrical, plumbing, heating, structural issues, pools, and spas.
The Home Inspectors we recommend to our clients have a proven track record of providing a WOW experience and carry the most up-to-date training and specialized education in their field.

Lawyers
When it comes to keeping you and your best interests protected, having the right real estate lawyer with local knowledge is sometimes overlooked and has the potential to become a severe issue. In our experience, hundreds of tiny details and a few big ones could potentially cause a problem. If it does, you can relax, knowing you're working only with the best Okanagan lawyers that have a keen understanding of our local areas.

Even if you're already an Okanagan local or someone just discovering this incredible region for the first time, navigating through 30 neighbourhoods doesn't sound like a ton of fun!
Well, maybe it can be! I've gone ahead and created in-depth neighbourhood guides that include the newest homes for sale, real estate statistics, pricing, maps that highlight the best things each neighbourhood has to offer, school information.
Explore the Okanagan with
Brandon Grass
Whether you are a local or someone who is thinking about relocating to the Okanagan, a guided tour with a local community expert has so many incredible benefits for you. It's the only way you will experience and get a feeling for each neighbourhood you're most interested in.
Your Tour with me will include:
Complimentary Kelowna International Airport pickup and drop off
A planned tour of all the neighbourhoods and communities you are most interested in, along the way I'll be helping you learn about the real estate prices, property types, neighbourhood hot spots are including grocery stores, banks, coffee shops and anything else you'd like to know
A meal at one of the best local eateries
An opportunity to get all your questions answered

ARE YOU RELOCATING TO THE OKANAGAN?
If you are considering making a move and relocating to Kelowna and the Okanagan, then this page will become your ultimate resource of relocation information.
Topics covered include cost of living, neighbourhoods, real estate prices, parks and beaches, fun things to see and do, and so much more.
Brandons Happy Clients had this to Say
Not Quite Ready To Buy...
But you'd still like to keep an eye out for the perfect property, or you'd like to get a better understanding of the current market conditions.
Sign Up to receive our Monday Market report, where we send you the newest real estate listings, market statistics and trends, fun things to see and do, and my newest videos.
Okanagan Real Estate Updates - Sent to you!