If you love to golf, love to explore nature, and are looking for a quiet place to call home while still not being too far away from Kelowna's city center. Today, you will want to stick around as we take a tour of the highly sought-after Gallaghers Canyon Community.
Located in the spectacular neighbourhood of South East Kelowna, this master-planned golf course community offers residents a truly remarkable place to call home.
Gallaghers Canyon is a bare land stratum that offers housing options, including single-family homes, duplexes, and townhomes. With over 685 homes in total, this community is far from negligible and has a great variety of homes to choose from
Real Estate at Gallaghers Canyon Kelowna
If you are searching for a single-family home in Gallaghers Canyon. In that case, you'll find several floor plan options ranging from 2 bedroom 2 bathroom homes with 1243 square feet of living space to 3 or 4 bedrooms and 4 bathroom homes with over 5,000 square feet of living space.
The average home you'll find in Gallaghers Canyon Kelowna is going to be a 3 bedroom 3 bathroom home with 2345 square feet of living space.
Over the past 12 months, the average sale price for a three-bedroom, three-bathroom home with 2,602 square feet of living space at Gallagher's is selling for $981,151. The most expensive home to sell over the last 12 months sold for $1.7 million. The least expensive home to sell in the previous 12 months sold for $625,000 with 2 bedrooms, 2 bathrooms, and 1270 square feet of living space.
There were 42 homes to sell in Gallaghers Canyon. 41 of them had a main floor master bedroom, 30 of the houses had main floor laundry, 22 homes had a main floor den/office, 19 had full basements while 15 of them had a 4-5ft crawled space and were one level ranchers.
How old are the homes in Gallaghers Canyon? It depends as the community continues to grow for the past 25 years. Homes here range in age from the early '90s right up to the present day. Most of the houses were built during the early 2000s.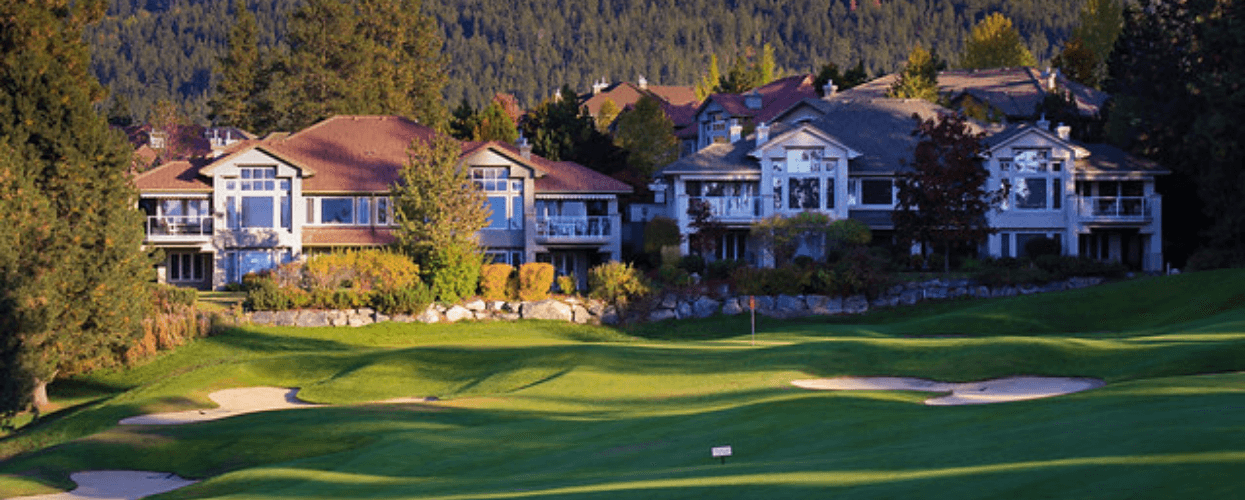 If you are searching for a townhome in Gallaghers Canyon, let's talk about what you will find and how much you will spend.
The average townhome you'll find at Gallaghers Canyon is a 3 bedroom 3 bathroom home with 2303 square feet of living space. The largest units are found at Pinnacle Ridge and offer over 4300 square feet of living space. Pinnacle Ridge is a high-end townhome complex located at 3800 Gallaghers Pinnacle Way that features 32 townhomes built-in 2001. These units are on a ridge and offer breathtaking views of Kelowna, Okanagan lake, the golf course, and the mountains.
Over the past 12 months, the average sale price for a three-bedroom, three-bathroom townhome with 2,347 square feet of living space at Gallaghers Canyon is selling for $831,292. The most expensive townhome to sell over the last 12 months sold for $1.2 million. The least expensive townhome to sell in the previous 12 months sold for $700,000 with 2 bedrooms, 2 bathrooms, and 1556 square feet of living space.
The Golf at Gallaghers Canyon
Gallagher's Canyon Golf Course Kelowna BC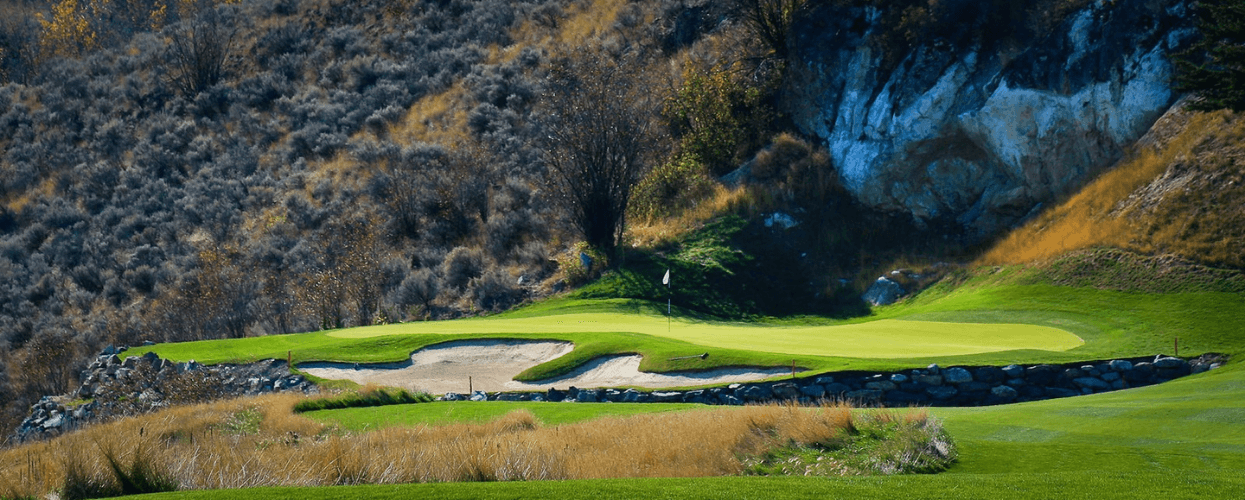 Gallagher's Canyon Golf & Country Club is consistently ranked among the best golf courses in the country and arguably one of the best in Kelowna. This challenging par 72, 18- hole championship golf course offers spectacular scenery as you wind through the hilly terrain and try your luck at hitting the challenging well-protected greens. The fairways feature twists and turns and are lined with glorious ponderosa pines and tall wild grass. 18 Holes – Par 72 – 6,802 Yards.
The Pinnacle Course at Gallagher's Canyon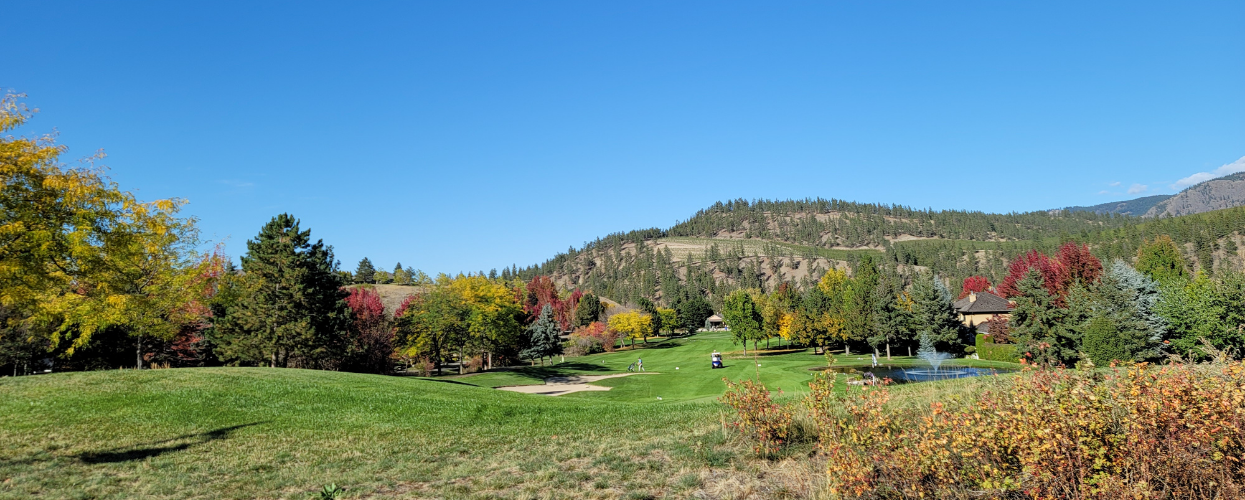 If you feel a little over your head when it comes to taking on the full-size Gallagher's Canyon golf course. In that case, you can try the less intimidating Pinnacles Course. This 9-hole, par 32 courses are built in the same picture setting as its big brother. Still, golfers with any ability will feel comfortable going from hole to hole. 9 Holes – Par 32 – 1,984 Yards
If these two courses aren't enough for the serious golfer in you, don't worry. Nearby is the prestigious Harvest Golf Club, which offers some of the most beautiful Okanagan views of any golf course around.
The Village at Gallagher's Canyon features the following incredible amenities for you to enjoy:
Indoor saltwater pool
Swirl pool / Hot Tub
Fitness Centre
A fully stocked library with a seating area to sit and enjoy a great book.
Garden space
Verandas
Water fountains and patios
Various craft rooms
Ceramics and pottery areas
Woodworking and painting areas
Stained glass making areas
Sewing room
Clubrooms feature games that include bridge, yoga, crib, poker, and more.
There are various social events pre-planned throughout the year, and there is always something fun to do. A variety of outdoor features await you, such as gardens, verandas, water fountains, and patios.
The exteriors are decorated in a timeless stucco. They feature grand entranceways, a beautiful front yard courtyard, patio areas, low bungalow sloping rooflines, exposed aggregate concrete driveways and patio areas.
You'll find everything from an original history piece from 1998, where the owners have taken excellent care of the home and may require some light lipstick renovations, To more high end and upscale renovated homes where there is nothing for you to do except to move in and enjoy your new home.
Let's talk about the restaurants, grocery stores, and what's nearby.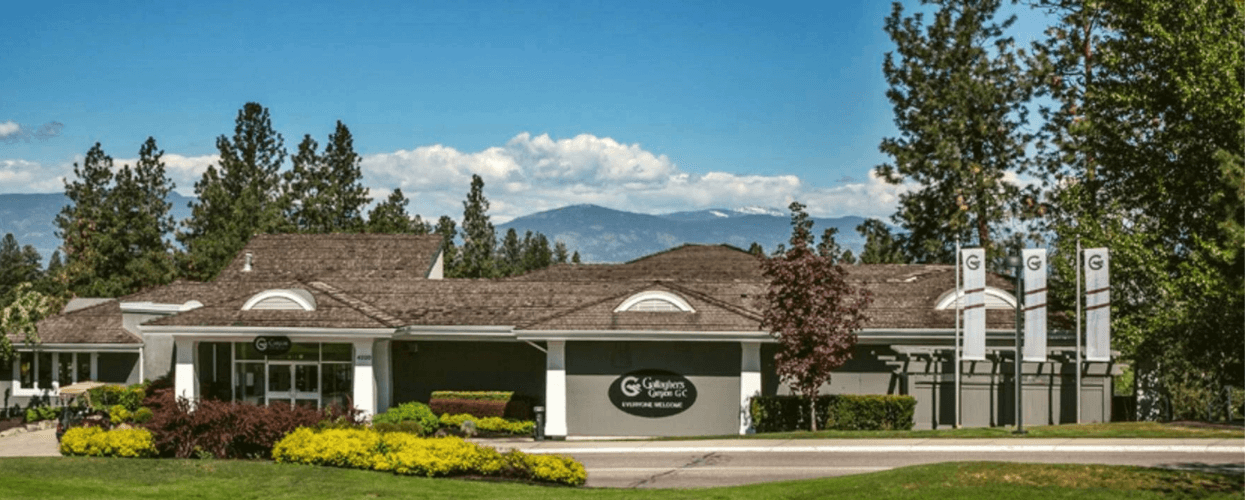 Gallaghers is a little different, and so many people love this community for its peacefulness and being off the beaten track. Gallaghers is located 18 minutes from downtown Kelowna, 23 minutes from the Kelowna International airport. I just wanted to let you know that you should be prepared to travel by car. Your average drive to Costco, Walmart SuperCenter, Save on Foods will take you 15 minutes.
The estimated bare land strata fees are approximately $245.00 per month. That fee includes the use and enjoyment of the beautiful amenities and fun things to do. They provide snow removal services for all public roads, sewer, contingency reserves, management, and security gate maintenance.
Gallagher's Canyon is a safe gated community and is NOT age-restricted. Additionally, pets are allowed with restrictions as rule changes so often. There is no RV parking on site, but because so many Gallaghers Canyon residents have RVs, they have come up with a few options for an additional fee.
Gallaghers Canyon is a fantastic community and one that truly offers the Okanagan lifestyle. I specifically waited until early fall to record this community to catch as much beauty as I could. On the way to Gallaghers, you will wind your way through rolling hills, fruit orchards, wineries, Harvest Golf Course, and Mission Creek Golf Course, and it is a spectacular drive.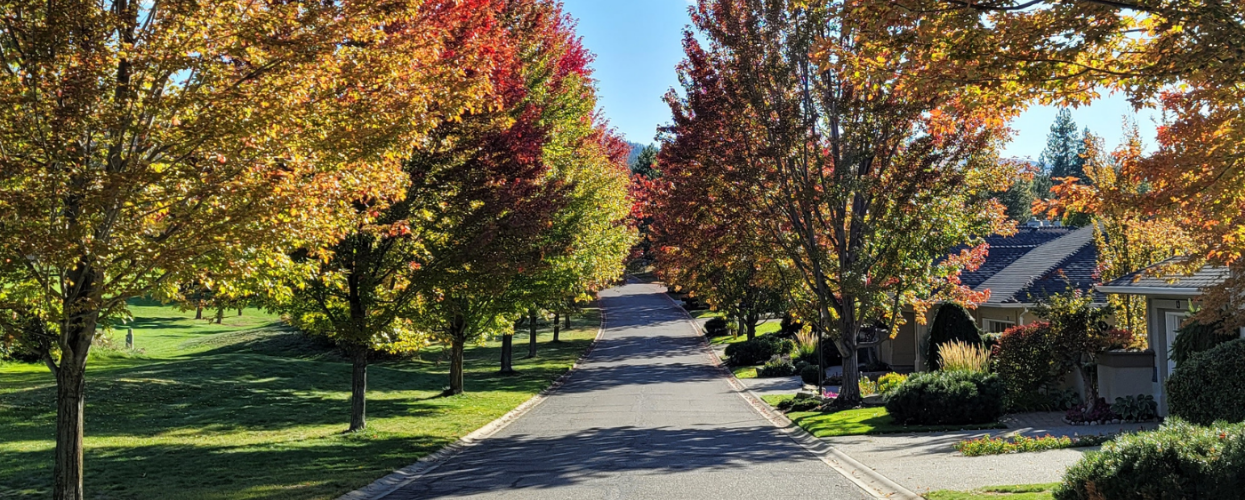 Myra Canyon is just a few minutes away, where you can enjoy many fun-filled activities. The park provides ample room for horseback riding, hiking, boulder climbing, walking and biking. In the wintertime, take part in cross country skiing or snowshoeing.
So, imagine a place that is quiet, peaceful and affordable. With a wonderful golf course, where the scenery is breathtaking. That's Gallaghers Canyon Golf! Take a look at this video and learn about our golf community.