Here is your guide on what kind of year-round weather you'll find living in Kelowna
With over 2000 hours of annual sunshine, less than 15 inches of annual rainfall, mild cool winters with hot sun-soaked summers and a distinct four-season climate.
In summary, it's safe to say the weather in Kelowna is absolutely positively amazing.
The weather is undoubtedly one of the many reasons why thousands of people are moving here every year. If you're wondering what the weather is like in Kelowna, from how cold it gets in the winter to how hot it is in the summer or how much it rains and snows, then this blog is for you.
In summary, the weather in Kelowna is unbelievable. And I must admit, 11 years ago when I moved here, and I didn't even consider climate change or think about what the weather was going to be like; it just became a bonus of living here, and to this day still is one of the best perks of living here.
In the fall and winter months, you can expect mild, cool and dry with very little rainfall. During the spring and summer months, the heat is on, and the Okanagan lifestyle shines!
Unlike the snowier regions up north and the more relaxed, rainier areas near the coast, Kelowna enjoys a humid climate and four distinct seasons. We have a local term that says, "Kelowna a four-season playground," a little cliche or not; I'd have to agree our seasons are awesome!
Here are two weather highlights Kelowna receives over 2000 hours of sunshine per year and just 15 inches of annual rainfall.\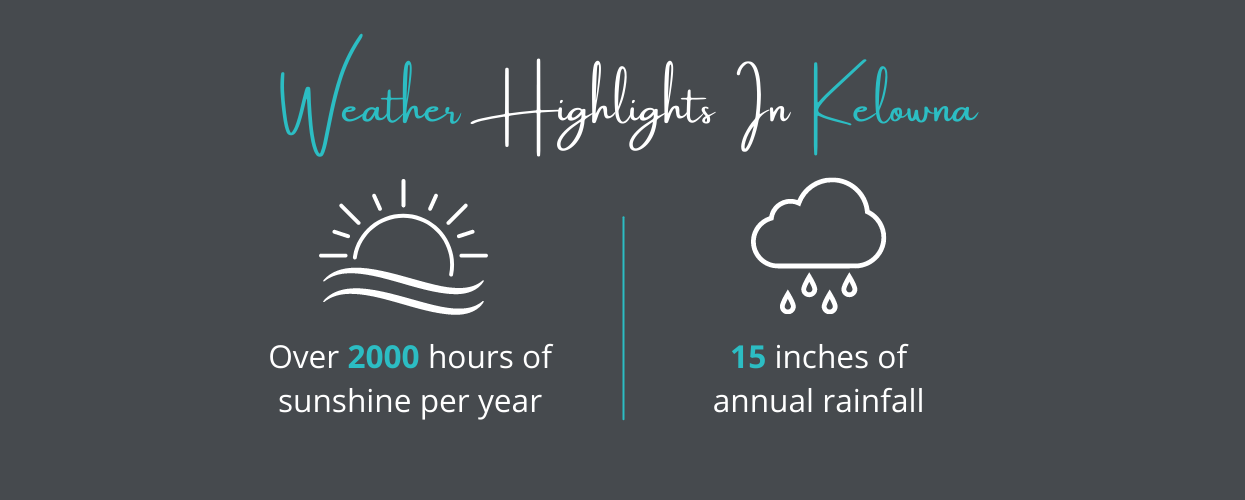 Winter in Kelowna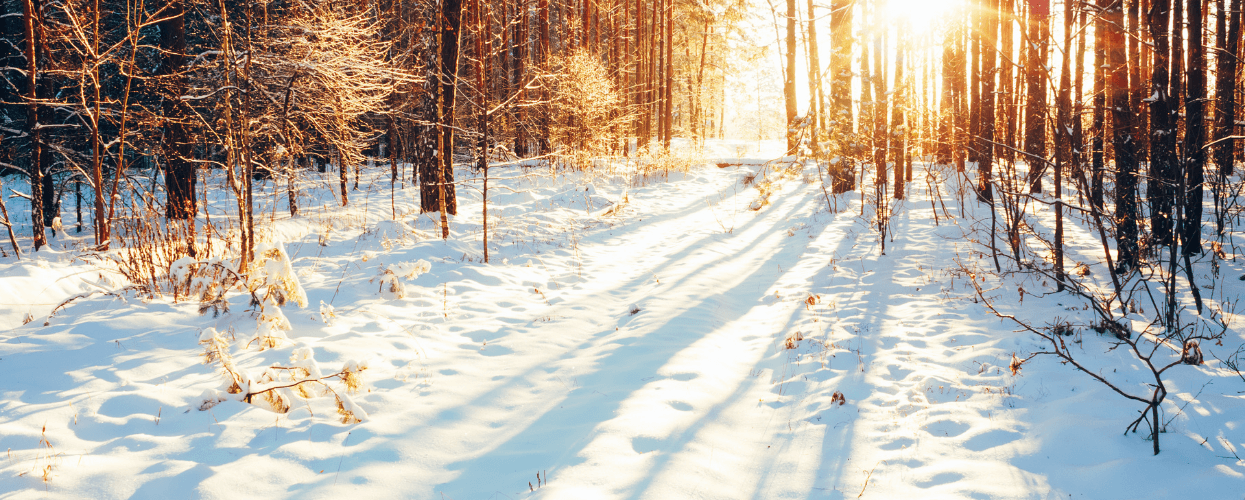 Over winter, our temperatures are still relatively mild when compared to the rest of Canada. In December, our average temperature is 2 degrees. In January, you can expect a high of 1° and a low of -5°. And February a high of 4° and a low of -3°. We usually receive an average of 25 inches of annual snowfall during the winter months per year, and while this sounds like a large number, it's not. The snow comes and goes a few inches at a time and tends to stick around for a while. We do get the very rare snow days where we will receive over 12 inches or 30 cms of snow in a 24 hour period that causes chaos and schools closing, but that's not very common.
The largest snowfall happens in December and January, where we receive a total of 16 inches over these two months. This is probably why so many locals pre covid, and I'm sure after covid leave during the winter. The birds are not the only ones flying south for the winter. While snow might not be your favourite, our winters in Kelowna offer so many great thighs to see and do, from skiing at Big White Ski Resort to snowshoeing, Nordic skiing snowmobiling. Skating on Stuart Rink Park downtown and so much more.
Spring in Kelowna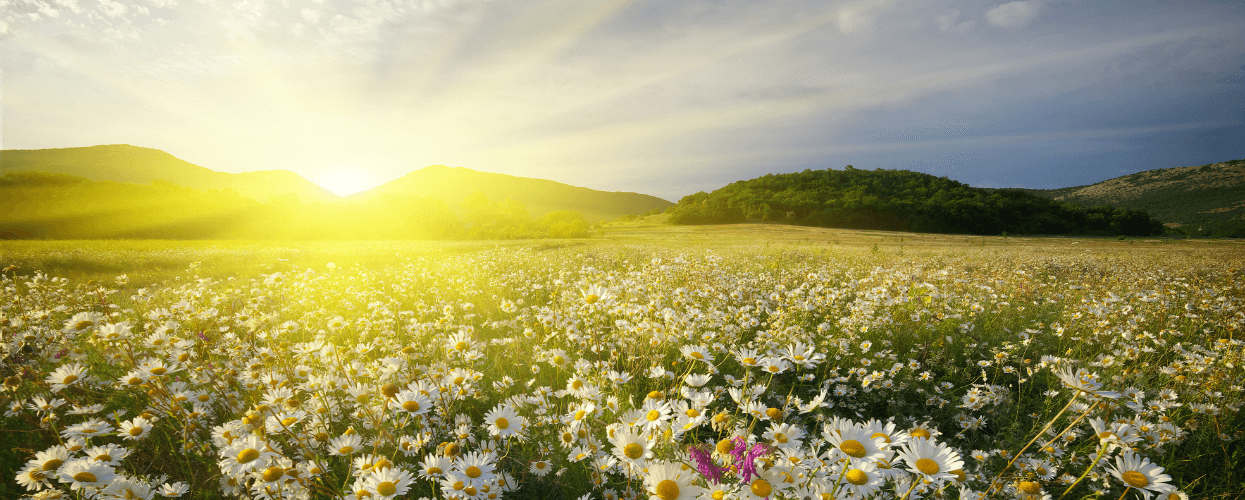 Springtime in Kelowna starts with everything coming to life again. Average temperatures throughout the spring range from 10 degrees in March to 15 degrees in April, 20 degrees in May, and 24 degrees in June.
Our spring season consists of trees blooming, the lawns becoming alive and green again, Birds chirping, Street sweepers sweeping, Golf courses being open, and people being excited! With over 100,000 yards on 18 golf courses, how could you not be excited? If you are not a golfer, look forward to hiking, mountain biking, wine touring, and more.
Summer in Kelowna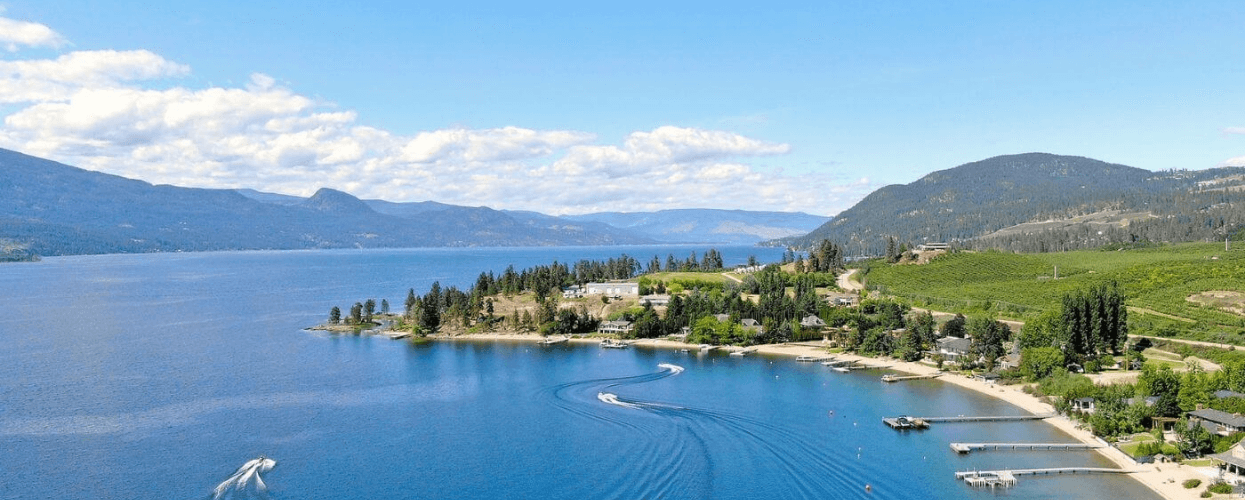 With over 2,000 hours of sunshine per year, while most of it shining down on us over the summer season, it's no surprise that Kelowna sees over 1.7 million tourists per year coming here for holidays, vacations or a family getaway. They are all here to go and enjoy the incredible sunshine. Summertime temperatures for July and August are between 27 and 28 degrees on average.
Then there are a few days in the high 30's where you feel like you are melting like a snow cone in Phoenix or have a blow dryer on your face all the time. Don't worry, that's what the lake is for! The Family and I love to enjoy the sun by heading to one of the many local beaches, at a city park in downtown Kelowna, Skaha Lake in Penticton, Kal Lake in Vernon or a quick after-work swim and family BBQ at Pritchard Park in West Kelowna.
Fall in Kelowna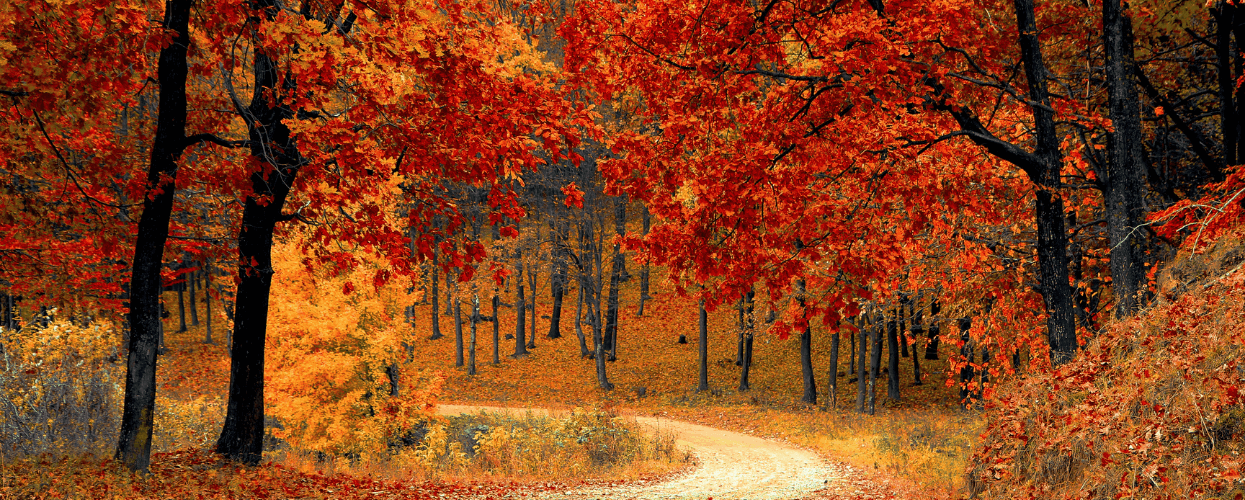 Fall in the Okanagan is one of my favourite times of the year. The cooler temperatures are always welcomed after what seems like a really long and very hot dry summer (I'm not complaining). It's nice to be able to wear jeans again! Enjoy the cooler temperatures while driving with your windows down instead of the air conditioning on full blast.
Fun fact Kelowna was rated by Travelocity as one of the most scenic places in Canada to visit in the fall. And I'd have to agree! The beauty is spectacular, the Orchards and vines changing colours from fiery red to glowing yellow. The Okanagan is littered with gorgeous sights to behold. Tree-lined streets along Bernard or a scenic drive winding your way through the many local vineyards and orchards are amazing. Fall temperatures range from an average of 22 degrees in September to 13 degrees in October. Snow doesn't come till mid to late November, so there is plenty of time to enjoy the outdoors in the cooler weather.
While I don't claim to be a Kelowna weatherman, learn even more about the weather in Kelowna by watching this in-depth video