Are you thinking about Moving to Kelowna BC?
If you've landed on this page, then there is a great chance that you might be thinking about moving to Kelowna, well you're definitely not alone as the word gets out about the incredible lifestyle, great weather, and affordable real estate prices, more and more people are making the move here.
Whether it's the wonderful four-season playground that locals enjoy year-round or the incredible quality of life that is offered for all ages, the gorgeous sun-soaked summers or the top-quality healthcare and hospitals. This growing city balances the benefits of British Columbia's sixth-largest metro area with the peaceful nature of lakeside living. Here are 20 reasons why Kelowna is the best place to call home – in Canada and beyond.
Here are 20 Reasons why you should move to Kelowna BC
1. Incredible Real Estate Prices


Real estate prices have been on the rise across British Columbia, making it challenging for families to purchase homes and settle down – except in Kelowna. While the average home price in Vancouver is over one million and comes in at a lofty $1,898,332. While the average single-family home in Kelowna rings 45% lower at $1,045,000. For those of you thinking about downsizing or putting some of your equity in the bank, Kelowna may be a great option for you to call home. You can view the newest Kelowna Homes For Sale and see just how much your budget will get you.
2. The Beauty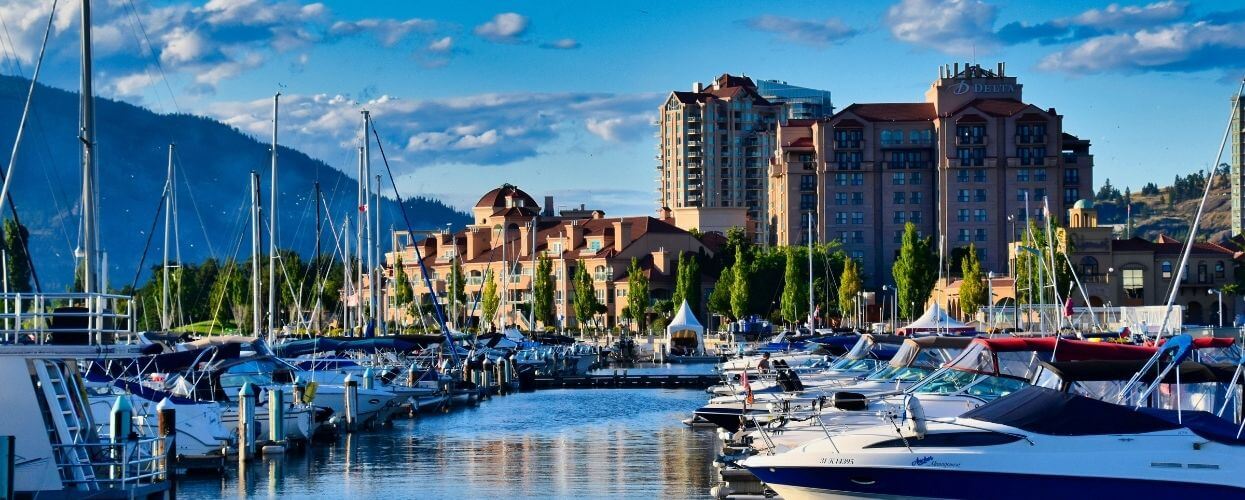 Kelowna's beauty is renowned, boasting a stunning natural landscape for both work and play. Located on the shore of a gorgeous lake and surrounded by rolling hills and mountain peaks, Kelowna residents can enjoy a blend of both urban and rural scenery. From wineries and orchards to beaches perfect for sunbathing in the summer, the Okanagan Valley offers breathtaking views in every direction.
3. The Weather
Unlike the snowier regions up north and the cooler, rainier areas near the coast, Kelowna enjoys a humid climate and four distinct seasons. Summers are warm and dry with average temperatures around 27 degrees, while winters are cool and crisp with highs ranging from 1 to 6 degrees. From hiking, biking, and suntanning in the summer to skiing in the winter, Kelowna's unique weather patterns offer a little something for everyone. It should come as no surprise after reading this but one of the major reasons for people moving to Kelowna is due to the incredible year-round weather.
4. The Wine and Wineries
The city of Kelowna is a wine-drinkers paradise with 40 wineries within 20 minutes of the city center, offering a perfect place to sit back, sip, and enjoy. Visitors can drink award-winning bottles of wine and sample local eats at their leisure, or spend a few days exploring the guided tours of area wineries. West Kelowna is home to the Westside Wine Trail, featuring some of the oldest and most well-established wineries in the Okanagan, including Quails Gate, Mission Hill, and one of the local's favorites, The Hatch winery.
5. Okanagan Lake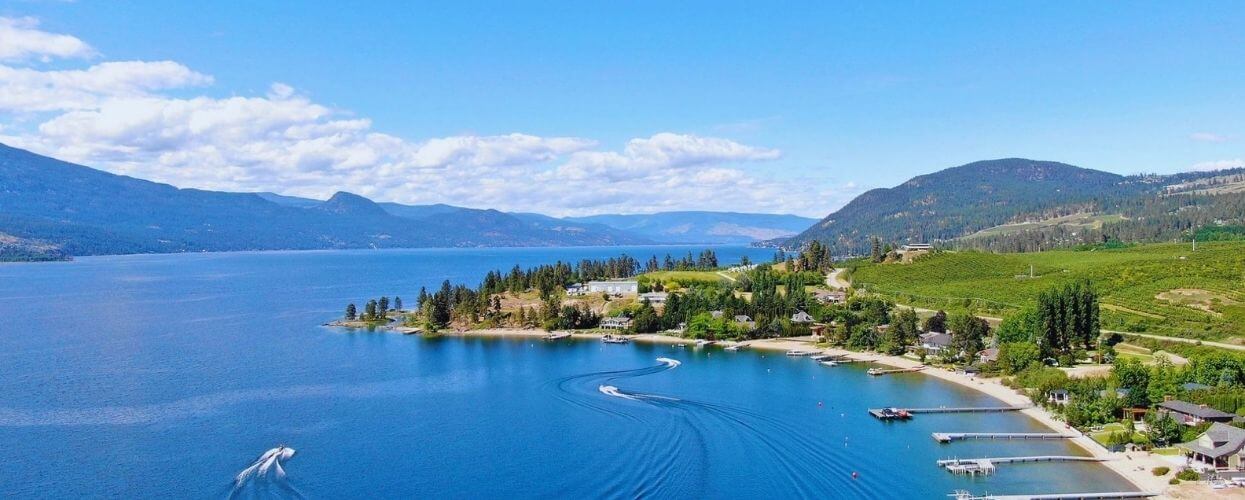 As one of the most beautiful waterways in Canada, there's a lot to love about Okanagan Lake. At 135 kilometers long and five kilometers wide, this beloved destination plays a vital role in local Kelowna summer fun. With water temperatures in the summer averaging around 19 to 23 degrees, outdoor enthusiasts can enjoy stand-up paddleboarding, wake boating, sailing, charter boating, flyboarding, kayaking, canoeing, fishing, or even snorkeling.
6. Kelowna Arts and Cultural District
Art and culture are alive in Kelowna's downtown Cultural District. Located in the center of the historical Fruit Packing Industry, local artists are able to display their work in this funky six-block area. In addition to a gallery and workshop space, 18 pieces of community art are placed throughout the neighbourhood, demonstrating Kelowna's love for painting, ceramics, and sculpture. With so many people moving to Kelowna and wanting to be close to downtown, has brought a huge need for more homes. Developers have taken advantage of this high demand and are building more and more new condo towers.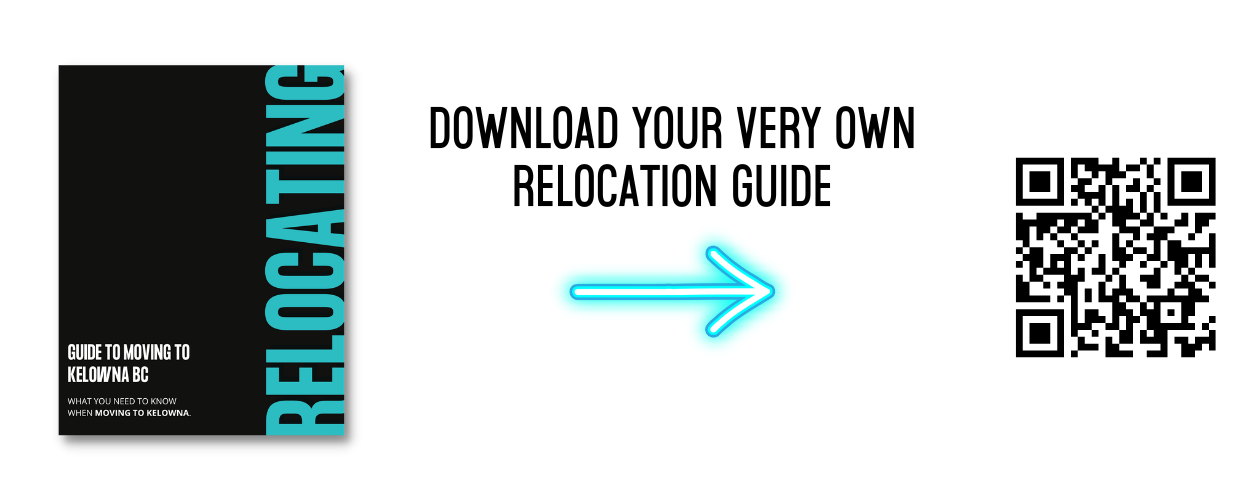 7. Kelowna General Hospital (KGH)
Kelowna serves as home to the nationally-renowned Kelowna General Hospital, one of the largest medical centers in Canada and an affiliate of the UBC Faculty of Medicine. As the only hospital outside of Vancouver and the Lower Mainland that offers angioplasty and cardiac surgery, residents and visitors are always in good hands.
8. Gorgeous Parks
The parks located throughout Kelowna offer so much variety and are ideal for outdoor recreational enthusiasts. Enjoy amenities such as walking paths, dog parks, sports facilities, skateboard parks, community gardens, swimming areas, and so much more. From Knox Mountain Park to City Park and having a wonderful family picnic on the lawn. Kelowna's pristine parks provide a beautiful destination for athletics and leisure alike.
9. Stunning Beaches
Kelowna's climate is perfect for sunbathing and swimming, providing six to eight months of sun and fun each year. (did you just read that. Maybe its time to throw your umbrella away) Greater Kelowna has over 30 beaches to choose from, many of which feature playgrounds, picnic areas, and beautiful white sand. On summer nights, the beaches come alive with live music, festivals, and entertainment, with parties and festivities lasting late into the evening. One of our family's favorites is Music in the park.
10. Lush Golf Courses (FOUR!)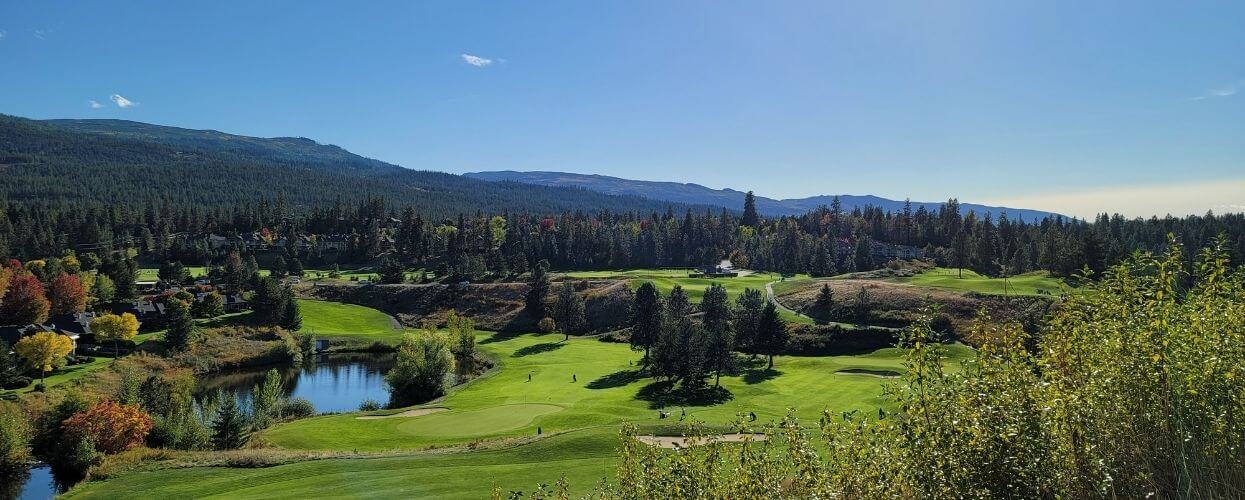 With over 2000 hours of sunshine every year, it's no wonder why golfing in Kelowna is so desirable. With 15 courses to choose from, there are golf courses to match any skill level from the novice to the PGA tour professional. Kelowna's beautiful courses will keep even avid golfers engaged. From the rolling hills of Tower Ranch Golf Club to the vineyard views at Harvest Golf Club, there's always time for nine holes – or more! If you're looking to live, eat and sleep on a golf course, there are plenty of golf course communities to choose from in Kelowna. Gallagher's Canyon is one of the most sought-after places to call home and is found in the neighbourhood of South East Kelowna.
11. Mountain Biking and Cycling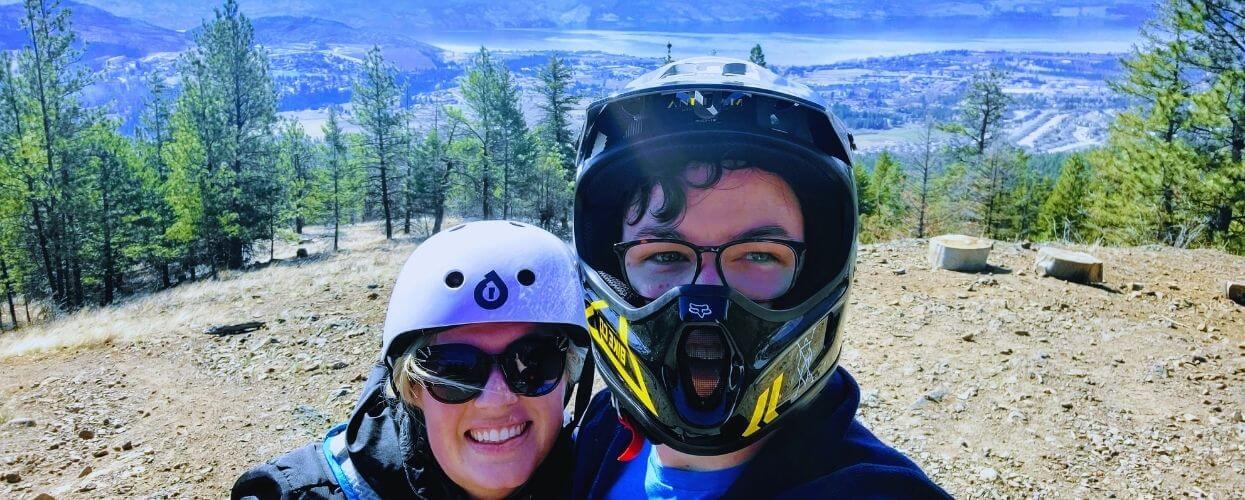 As an eco-friendly community, biking is a great way to get around in Kelowna. For those who want a bigger challenge, however, the hilly terrain can provide a high-intensity experience, forcing you to put your skills to the test. From cycling on the nearly 300 kilometers of bicycle lanes around town to the mountain courses in the surrounding hills, Kelowna is a great place for a ride, and if you are more of an adrenaline junkie, you can do extreme downhill mountain biking at Big White Ski resort during the summer.
12. The Kelowna Rockets
Hockey is a beloved pastime across Canada, and the Kelowna Rockets give local fans plenty of reasons to cheer. A major junior ice hockey team in the Western Hockey League, Rockets matches are held at Prospera Place and are always packed with fans of all ages, wearing jerseys and rooting for the home team. As the 2016 BC Hockey League and RBC Cup Champions, games are always fast-paced and tons of fun.
13. Myra Canyon Trestles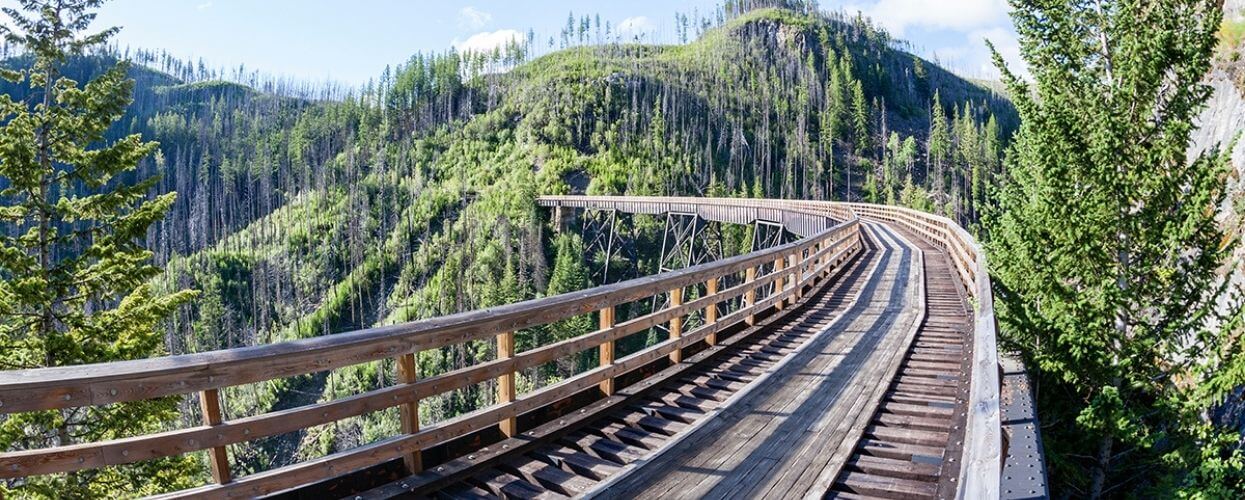 Located just 20 km from downtown Kelowna, follow the scenic trip through farms, orchards, vineyards, and golf courses as you wind through South East Kelowna. Myra Canyon features 18 trestle bridges and offers some of the most incredible scenery the Okanagan has to offer. The walls of Myra Canyon Trestles make up a significant portion of the Kettle Valley Railway, providing a scenic destination for a great day trip, walk, run or rent a bike and explore on the go, there are even guided tours happening daily in the summer with loads of information on this historic location. Read more about Myra Canyon Trestles in our in-depth blog next!
14. Fast and Easy Travel
Those of you moving to Kelowna can take advantage of the fast and easy travel. Despite a seemingly secluded lakeside location, Kelowna is anything but isolated. Kelowna International Airport is just kilometers from the city itself, serving 1.6 million passengers annually with daily flights leaving to all major Canadian cities as well as the Northwestern United States. Vancouver International Airport is just 30 minutes by plane, while trips to Calgary and Edmonton in Alberta are just over an hour.
15. Boutique Shopping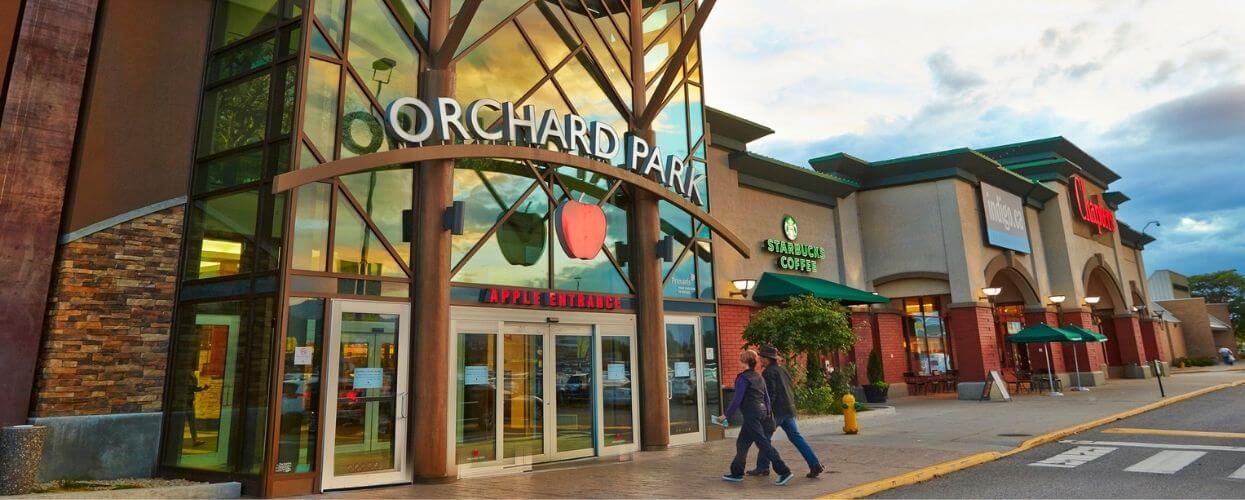 World-class shopping in British Columbia isn't limited to the big city of Vancouver; Kelowna offers a great variety of shopping too. From the local boutique shops in the busy downtown area along the street of Bernard Avenue (think a smaller version of Robson in Vancouver). To the more quaint shopping experiences that feature wonderful specialty shops on Ellis, Pandosy, and Tutt Street. Our Orchard Park mall features over 170 shops and services ranging from Gap, Hudson's Bay, Sport Chek, Guess, and many more.
16. Big White Ski Resort

Winter is a special time in British Columbia, providing plenty of snow for outdoor activities. Big White Ski Resort can be the ideal opportunity for some searching for a local winter wonderland, offering skiing, snowboarding, tubing, and an outdoor frozen pond that is always hosting a puck and stick hockey game. Locals enjoy escaping the less than one-hour commute from the hustle and bustle of the day-to-day and enjoy the laid-back resort lifestyle this wonderful place has to offer. The snow gods deliver loads of the world-famous Okanagan Champagne powder offering up over 750cm of annual snowfall. With 16 lifts and 2,765 acres of Skiable terrain, it's no wonder why this resort continues to win awards after awards. If your considering purchasing property in Big White Kelowna, our in-depth guide to buying a Big White Condo is super helpful.
Kelowna is also home to two other resorts – Silver Star and Apex – providing plenty of ways to hit the slopes. With homes just moments away, it's possible to both live and play in Kelowna's cold weather paradise.
17. Farms, Orchards, and Outdoor Farmers Markets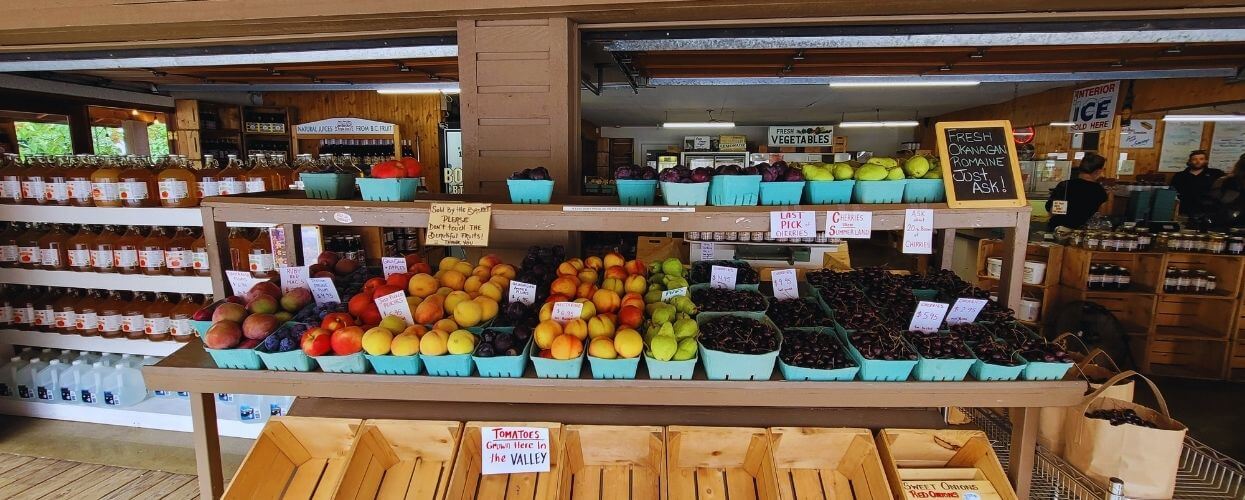 In Kelowna and across the Central Okanagan Valley, locally-grown agriculture drives the economy; the micro-climate in the region is perfectly suited for a long growing season, providing wonderful weather for homegrown fruits and veggies. From Arlo's Honey Farm to U-Pick Orchards, the area farms, orchards, and markets give you access to almost everything. From mouth-watering peaches to the most succulent cherries and the freshest apples, there is something delicious for anyone in any season. The popular attraction for locals is the Kelowna Farmer's and Crafters Market which runs from April to October.
18. Educational Options
For families in Kelowna, education is a top priority, giving children, teens, and young adults an opportunity to learn and grow. Kelowna is included in School District 23, the Central Okanagan School District, which boasts some of British Columbia's best-rated elementary, middle, and high schools. In addition, the University of British Columbia's Okanagan Campus (UBCO) is located in the North East of Kelowna and is part of the University District – Quail Ridge neighbourhood. The Campus Offers 62 undergraduate programs and 19 graduate programs. In the Lower Mission neighbourhood on KLO is Okanagan College which offers loads of entry-level programs including a wide range of trade school programs. There are some great investment-type properties in both these University and College locations. Learn even more about the best schools in Kelowna in our detailed blog post, where we highlight all the schools in Kelowna, including catchment area maps, contact information, and more.
19. Adult Recreation
For those seeking a life of relaxation and enjoyment, Kelowna is a welcome respite for post-retirement living. As a community open to retirees and visitors of all ages, there is plenty of family-friendly and adult-friendly spaces across the city. From gated communities to independent living and retirement homes, there are options available for everyone along the shores of Okanagan Lake. If you're wondering what Okanagan Community would be the best for you, watch my Okanagan Community Tour series below to learn more about them.
20. A Sense of Community
Kelowna offers plenty of activity, action, and excitement for visitors and retirees, but it's also just a great place to live. Despite the size – as of 2019 a population of approximately 120,000 residents – Kelowna is a tight-knit community. People take care of their neighbors, participate in local events, support area businesses, and are always happy to greet you with a smile. Kelowna is a family, providing a beautiful, vibrant, and welcoming place to live in British Columbia.
With so much to love about this one-of-a-kind community, there's no better place to jump-start your future, build your family, or settle down at the end of a satisfying career. In Kelowna, anything is possible.
Be sure to check out our in-depth page on relocating to Kelowna BC where you can learn even more about moving, living, working and playing in Kelowna BC,
and for more informative videos watch our full list on Moving to Kelowna on our YouTube Channel by clicking the video below.
If you are looking for even more information before planning your move to Kelowna BC, get in touch with one of our local community experts below. We can't wait to welcome you to Kelowna and the Okanagan Valley.