The Scenic Myra Canyon Trestles
The Myra Canyon trestles are one of the most beautiful train bridges in the world. They were built over a century ago and have been standing strong since then. The trestles span 475 feet across the canyon, connecting two mountains on either side. The trestles were originally used to transport freight trains from east to west for mining operations. Nowadays, they are mainly used as tourist attractions for hikers who want to explore the area or take pictures of this unforgettable sight!
Myra Canyon Location
Myra Canyon Trestles is located 24km from downtown Kelowna and will be about a 40 min drive to Myra Station in Kelowna's southeast neighbourhood.. This scenic and attractive drive will take you past farms, orchards, vineyards, and golf courses. The road up to the trestles is gravel, but most vehicles should be able to climb during the summer and fall months.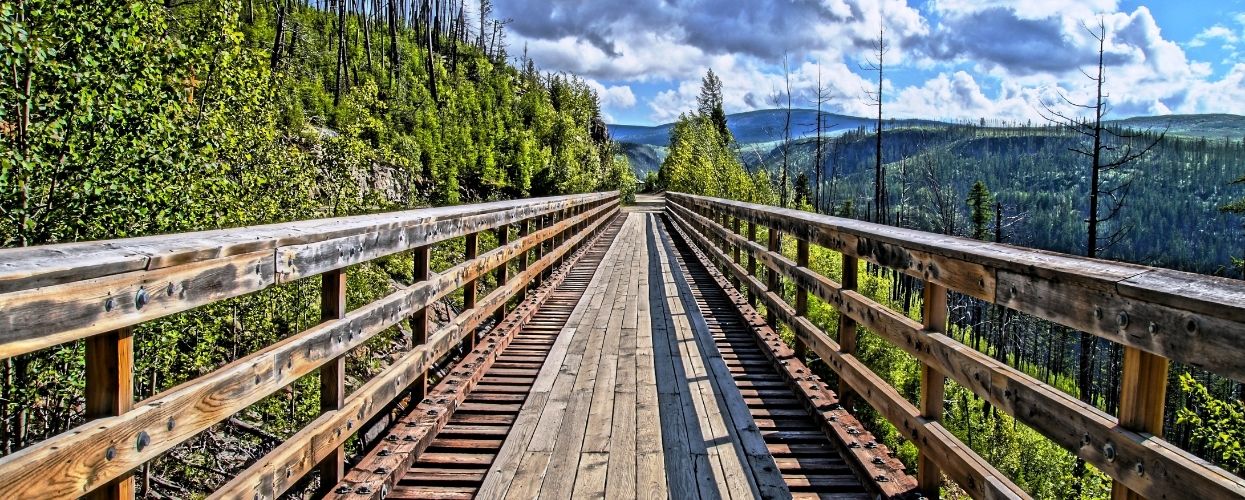 The Trestles
Myra Canyon has a total of 12 trestles, and the Myra Canyon Trestle is by far the most impressive one. The other ones are much shorter in comparison to this majestic structure. The best time to visit the Myra Canyon trestles is around mid-June when all wildflowers bloom. You will also see many other types of flowers, such as lilies and serviceberries, during this time!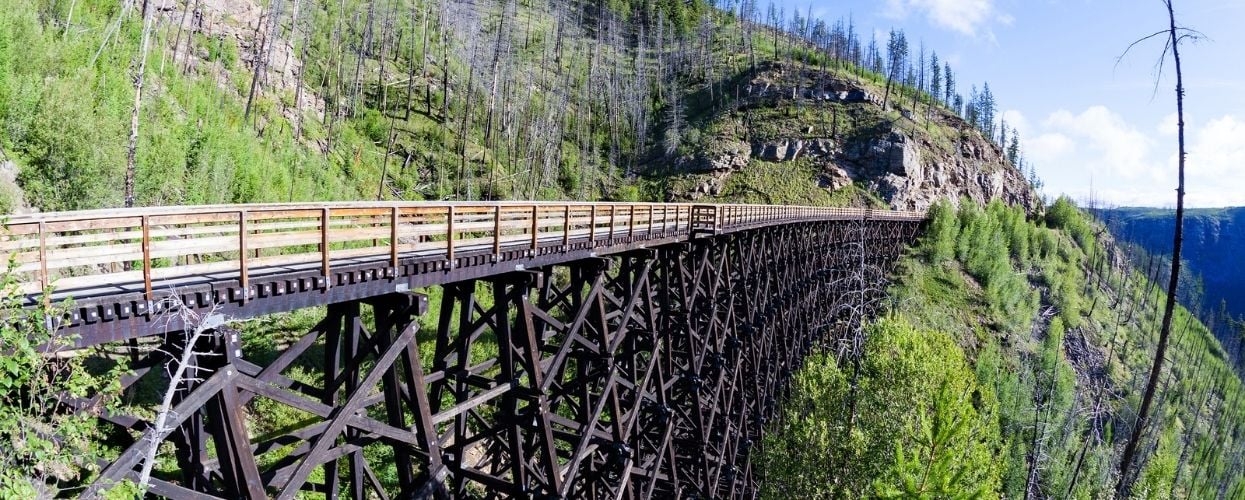 Recreation Activities
Locals and Tourists can enjoy a variety of activities in the area, such as
Hiking: visitors can hike on the Myra Canyon Trestle Trail (13km) or the Crannock Creek Trail (12km)
Horseback Riding: there are also stables located around this area where riders can find horses if they want to explore Myra Canyon Trestles on four legs instead of two!
Biking: All buses have bike racks at their front, making this a perfect destination if you want to combine biking with taking public transit (bike rentals are available). For those of us who would prefer riding to walking, there is also an option for hiring electric bikes through EBC Tours & Charters Ltd.
Photography; There are so many things to see and do in the area, it will be hard not to find something that pleases you! Check out our Summer Activities page for more information on what's happening around here during the summer months. If you're visiting Kelowna or another neighbouring city, then BC Transit might be your best bet when travelling up to Myra Canyon Trestles.
Sightseeing; Sightseers will be able to take pictures without any obstacles in their way since there aren't many trees that block the view along this stretch of trestles. A trip here wouldn't be complete, though, without taking some photographs at night under the full moonlight (April – August)! It's truly out of this world experience!
Snowshoeing; If you came here during the winter months, then make sure to check out our Winter Activities page for all your snowy adventures! There are many trails around here, and they will be transformed into something truly magical under the blanket of fresh powder! During the winter months (November – March), visitors can cross country ski or snowmobile along this trail. Myra Station is the best place to park your vehicle, located 24km up the gravel road from Kelowna City Center.
Dining In The Myra Canyon Trestles Area
There are several nice restaurants and eateries in the area. For those of you wanting to experience all, there is in Myra Canyon. Pack a picnic lunch and bring it with you to eat back at your car afterwards, or find a lookout point and grab a seat on any of the empty benches.
The Station House Cafe is open from May to October, while Myra Canyon Bed & Breakfast offers breakfast all year round! If you're looking for something more casual that's also close by, then check out our list of Food & Beverage Venues In Kelowna. We have everything from bakeries and delis to pubs and breweries!
If you are still looking for more fun things to do in Kelowna then watch this video for a few more suggestions