Kelowna Real Estate Statistics

$1,105,183

$765,000

$543,000
* Statistics provided by Interior Realtors MLS
Explore
The OKGN Life

in Kelowna
Use our helpful neighbourhood map below to search for your new home, condo or townhome, and find your ideal Kelowna neighbourhood.
Kelowna Schools
Here is an overview of the number of schools in Kelowna.
Great Schools & Post Secondary Options
For young families, looking to move into the Kelowna area you'll find 19 elementary schools to choose from. With both public and private options including English and french immersion. There is also a selection of secondary schools and an online alternative school for families that want what's best for their children.
Okanagan College located In Kelowna's Lower Mission neighbourhood offers students classes for technical and trade skills, international studies and select four-year degree programs.
Located in Kelowna's University District is the University of British Columbia's Okanagan campus. UBCO offers undergraduate and graduate programs for over 8,300 students throughout Canada and 90 other countries. UBC is one of only 2 Canadian universities ranked among the world's best universities.
Kelowna
You will likely see a few of these sights, from the restaurants along Bernard Ave in downtown Kelowna to a lush Lakeview golf course in South East Kelowna.
Request your very own Relocation Guide today!
- The Weather
- School Guides & Catchments
- Best places to Eat & Drink
- Fun Annual Events
- Neighbourhood Guides
-Newcomer Information
and so much more...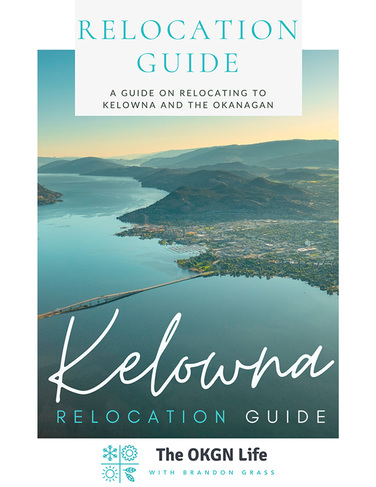 A guide on Relocating to Kelowna and the Okanagan
RELOCATION GUIDE

The OKGN Life with Brandon Grass
Helpful Videos
For Moving To Kelowna